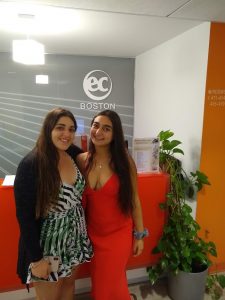 First things first, we're Camila and Ana. We're two students from EC Boston, one from Ecuador and the other from Brazil. After we met in EC, we became best friends.
Ana's Experience
My experience in EC Boston started on 19th January. As I said before I'm from Brazil, a tropical country. And when I arrived here in the climax of winter, it was very different to me. I remember wondering if the people here would be as cold as the winter, but it was totally the opposite! What kept me warm in the winter times was the warm hearts of the friends I've made, the teachers that I've the opportunity to learn with and all the EC staff.
Before I came here I was totally shy about speaking, especially in English but when I was welcome for such a friendly group, my English skills improved a lot and I graduated at the proficiency level.
Now It's spring and the weather is getting better. However, if you're coming to Boston there are many amazing things that you can do at any season of the year! Some highlights are:
Eat in Quincy Market. It's super near school, and doesn't matter if you're eating lunch, dinner or just a snack, that place has such an amazing atmosphere. Also they have live music and pretty much everything you could ask for when we're talking about food.
Visit Boston Common/Public Garden. The things that you'll do in these place vary depending on the season: in the winter you can surreally have fun with ice skating, and in the summer you can do amazing picnics.
Movie Theaters: Seeing movies in English is a funny way to improve our skills, and the cinemas around Boston are amazing. Hands down the best ones I've ever been to!
Studying English here was one of the best decisions that I've made in my life. The sharing of culture is so rich, the teachers are amazing, and the city is beyond fantastic. Not to mention, here I met some of my best friends. I'll be forever thankful for that experience.
Comments
comments