Here in Boston, we know it can be difficult for new students when they arrive. Sometimes, Boston and the USA are just so different form a student's native country. And sometimes, the student has never traveled before!
That's why we put a big emphasis on the first weekend! We send a greeter for the students who arrive at the residences to make sure they arrive safe and that they're comfortable. Also, our host families are the friendliest (and all-around highest rated!) in the US. We know how important it is to make a good first impression with our new students.
Every Sunday, one or two of our wonderful staff members meet up with the new students in the center of Boston. They even pick up the students who live in the residences en route! Firstly, they show students where the school is. Then, it's time for lunch! Our staff members take students to the world-famous 'Cheers' restaurant. Students get their first experience with classic American cuisine such as hot dogs and wings. Last week, our intern here in Boston, Kazuki, joined the fun — his favorite food is the Lobster Roll! Without fail, everyone eats plenty, gets full, and gets excited to explore the nearby area.
After lunch, our staff member Peter is always sure to take students on a short tour of the area and make sure they feel safe, comfortable, and ready to learn English in Boston! He helps students get SIM cards for their phones, Charlie cards for the train, and anything else they need. It's a really nice experience for everyone involved.
Then, on Monday, we have a carefully-arranged, exciting, and intense orientation at the school for our new students. So, they spend the weekend getting comfortable and accustomed, they spend Monday learning how the school works, and then on Tuesday, it's time to learn!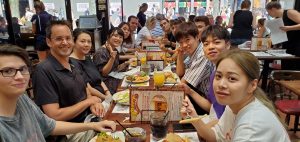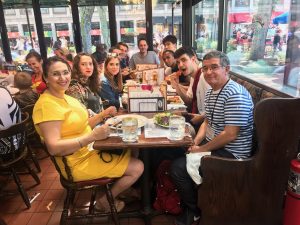 Comments
comments