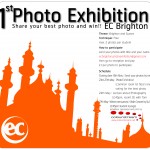 Take a look at the wonderful photographs which are displayed on the 1st floor.
Vote for your favourite photo and put your votes in the box on the reception desk.
Winner will be announced on Friday, 27th May at 2:45pm on the First Floor Student Lounge together with a violin concerto from student Su Bin.
Learn English in Brighton
Comments
comments