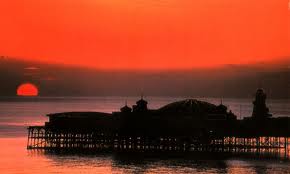 Dinosaurs at Churchill Square: From 1 August – This summer dinosaurs from the Natural History Museum are taking over Churchill Square Shopping Centre. Among the huge beasts will be carnivores including the terrifying T-Rex, the 'tyrant lizard' and king of the dinosaurs!
Dress for Excess: From 2 August – It's all change as The Royal Pavilion's Regency fashion exhibition is getting a makeover with a new range of clothes being displayed. 
The Brighton Retro Fair: 6 August – Visit City College to explore the fantastic range of original retro products from the 1950s – 1980s including home wares, furniture, clothing, toys, ceramics and more.
Brighton Fair Trade Festival: 6-7 August – Head to Brighton Marina to explore 40 stalls of fairtrade goods and enjoy the Afro Groove sounds of DJ Manello Funki Kora.
Brighton Pride: 13 August – The week of events celebrating everything LGBT across the city comes to a close with the fabulous Parade and this year's theme is Out of the World followed by the big party in Preston Park (ticketed event). 
Brunswick Festival: 14 and 20-21 August – 2011 marks the 30th anniversary of this popular community festival including the Scruffs dog show and live music, theatre and dance at Brunswick Square.
Shoreham Air Show: 20-21 August – The spectacular air show returns with Wing walkers, Spitfires, Hurricanes and Messerschmitts. 
Twisted: until 21 August – The Phoenix Gallery presents an exhibition of seven artists who employ traditional materials and techniques but manipulate and twist them into different forms.
Mod Weekender: 26-28 August – The 60s are back as the Mods take over Brighton again over the August Bank Holiday weekend.
The Place to Swim: 27 August – This guided walk will introduce you to the city's fascinating sea swimming history including details of the seawater cure and the legendary dipper Martha Gunn
Learn English in Brighton
Comments
comments