Those trips run by Discovery & UK Study are pretty good right? Getting all you guys out to destinations as far flung as Amsterdam and Edinburgh, and as close to home as Oxford and London. Pretty cool.
But what about if you don't want to pay so much money? What about if you want to stay even closer to home? What about if you want to explore the area around Brighton? Well, EC are here to help you out!
Here's the first of our top 3 Local trips on a budget:
1. Lewes and Virginia Woolf's house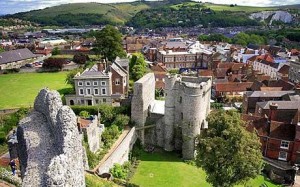 Lewes lies a few miles outside of Brighton; a traditional Sussex town, it's perfect if you want to do a little exploring or spend a lazy Sunday in beautiful surroundings. There are huge amount of traditional pubs serving local ales, and quaint cafes serving local produce. Lewes is indeed foodie's dream: no one should skip a cream tea or a pint of Harvey's.
Those of you nurturing a love of literature should make the extra trip to a tiny village another few miles from Lewes- Rodmell. There's a nice pub, and the views of the Downs are superb, but what really draws visitors here is Monk's House– Virginia Woolf's country retreat. Maintained as a public museum by The National Trust, Monk's House has been preserved almost exactly as Virginia left it at the time of her suicide by drowning in the nearby river ouse. For the price of entry it's an amazing experience, and the list of famous luminaries –W.H.Auden and T.S Eliot among them– who spent time in the property is staggering: sure to send a tingle down your spine.
Comments
comments