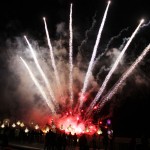 The 31st December is often referred to as New Year's Eve – the eve before new year. As with all countries around the world, England has a few customs that are associated with New Year.
Here in Brighton there are many clubs and parties to spend the night in. Some are free and require you to just be at a pub. Others are rather extravagant with performance artists, champagne, and special ceremonies. Many people will also spend the moment of midnight on the beach or local park often sending fireworks into the sky.
Wherever we celebrate the New Year a lot of English people will be following some of the following traditions. Generally, most people will stay up until midnight in order to welcome the New Year. Larger cities often arrange festivals and large fireworks displays, especially in the capital city. Most people will follow London's Big Ben as it counts down to midnight and many will sing a song by the poet Robert Burns called 'Auld Lang Syne', which originally was taken from one of Scotland's traditions.
Another tradition is the setting of 'New Years Resolutions'. This is when people make promises to themselves for the New Year and try to keep them for the whole year. Usually, due to the overindulgence after Christmas the resolutions are much about becoming more healthy and giving up vices.
'First Footing' is another tradition which may not be as common as it use to be. It is said that if the first visitor to set foot in your house on the 1st of January carrying a piece of coal, bread, money and some greenery will bring your house good luck for the year; a warm house is represented by the coal, food for the household is represented by the bread, wealth for the family in the house is represented by the money, and long lives is represented by the greenery. To signify the departure of the old year the visitor would cast out from the house some ashes or dust.
Whatever you do this New Years Eve in the UK or what ever traditions you follow, EC Brighton would love to wish you all the best for 2013!
Comments
comments