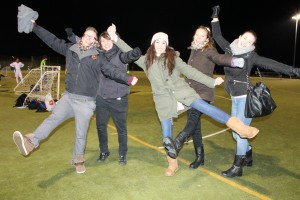 Hi,
Here are some highlights of our week!
On Thursday we watched the football game between students, teachers and staff from EC! It was so much fun to watch but unfortunately it was very cold for us who were spectators, so if you want to watch the next game, we recommend dressing warmly.  We think it is great that the school arrange this kind of activities and the football game was so popular that from now on their will be two games every Tuesday!
On Thursday we had lunch with Bernard who is the centre director here on EC Brighton. He took us to Devil's Dyke which is a lovely pub with a great view over the hills called The South Downs. On the pub we both had our first British fish and chips, we loved it! We also got to try some typical English puddings which we also found delicious. It's very easy to get there just take the bus 77 from Brighton. We really recommend this place if you want to see a bit of the countryside and breathe some fresh air, not too far from Brighton.
This weekend we've also seen more of Brighton's nightlife. There is a lot of good pubs and clubs, we really enjoy it!
Now we're looking forward for a new week with lots of new experiences and opportunities.
Cheers
Emilia and Vera
-If you would like to apply for an internship with EC, please check our vacancies page for further information: http://www.ecenglish.com/work-for-ec/vacancies
For more information about studying abroad at our of our many centres please visit: www.ecenglish.com
Comments
comments