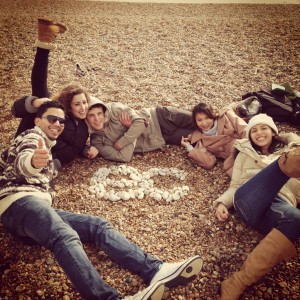 We wanted to involve the students at EC Brighton in providing ideas for an image that would replace the current one in our reception area. Students, as a group, submitted ideas and we picked the best one that would be awarded a prize. We were not looking for an actual photo to be submitted as this would require specialised equipment for such a large area (4.0 x 2.4 meters approx.). We were just looking for ideas from our students since they would be the ones that would be looking at this area every day as they entered the school.
EC Brighton would like to congratulate the following students for submitting this photograph which we thought was the best contribution to the final image:
Juan Carlos Rodriguez
Francia Correa
Avick Balyu
Their winning photograph is now the cover photo of the EC Brighton Facebook page.
Along with their favourite teacher, Juan Carlos, Francia, and Avick will be taken to a traditional English tea room for a traditional English experience at the Tea Cosy in Brighton to have 'cream tea', which consists of yummy scones with fresh cream and strawberry jam. In addition, they will each receive a letter from EC Brighton commending them for their contribution, and their photographic idea will be used, in part, for the final image in the reception area.
-Thank you to Juan Carlos for letting us publish this photo on here and on our Facebook page.
Comments
comments