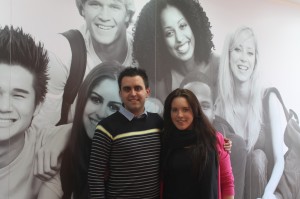 Our first week in Brighton was really nice. We visited different places in the city like the Pier and the Royal Pavilion, the most popular places in Brighton and we fell in love with their architecture. In addition, we like the old fashioned style of the churches of the city, we think that they are beautiful.
We are glad to do our internship at EC, we love the school. They have welcomed us very well. They invited us to a welcome dinner where we could meet new students and have an excellent time. The staff are very friendly and patient.
Olga: I am on reception desk, where I attend the students and I try to help them. I deal with the course evaluations and I welcome the students.
Ruben: I work in the academic department. I have to check the marks on the computer and lend books in the library to the students. In addition, I have to help to the students with any questions.
Both of us are staying in host families, who are really lovely. We have found a lot of differences between Spain and England. For example, the main meal here is dinner, but in Spain it is at midday. We live with other hosted students from Germany and Colombia. We are learning many things about the British culture.
We hope to learn a lot of English and continue enjoying this opportunity
Comments
comments