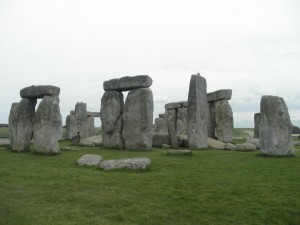 Since my arrival in Brighton, I was interested in doing this tour because I wanted to travel to Stonehenge, an important touristic place in England. In addition, this tour includes visits to Bath and Salisbury Cathedral, so I knew that I was going to visit different important historical places in the south of England.
First, I went to Salisbury Cathedral, the second tallest cathedral in Europe. It is placed in a different situation that it was supposed to be originally. It was built in the XIII century and it is a gothic style construction.
At midday I travelled to Stonehenge, which is near Salisbury. It was crowded with people from all over the world. Its history is very interesting, but has some question that are not answered yet. I had a good time there looking at the stones.
Later I went to Bath, a very beautiful city where the most part of the houses are built with the same material, so all of them have the same colour. To be honest, this is the part of the tour that I enjoyed the most. I visited the Roman Baths and it was amazing. It dates from Roman times and it was the place where the rich people went on holiday to relax on its waters. Nowadays it is the most important touristic place of the city. After that, I had a walk around the city where I could enjoy viewing nice places in Bath.
To sum up, it was a great day due to the interesting places that I could visit. If you like historical monuments, you will enjoy this visit a lot, so don't miss this tour, where you can enjoy some great moments.
Comments
comments