CHEAP TICKETS available to EC Brighton students to fly the London eye – £17.00 p/ticket! Only 10 tickets available, talk to Simone in the office behind reception, first-come first-served!
A ticket includes:
30-minute rotation
Samsung interactive capsule guides
Entry to 4D cinema experience
A few interesting facts:
– The London Eye is a giant Ferris wheel  (also known as an observation wheel or big wheel) on the South Bank of the River Thames.
– The entire structure is 135 metres (443 ft) tall and the wheel has a diameter of 120 metres (394 ft).
– It was formally opened by the then Prime Minister, Tony Blair,  on 31 December 1999.
– It is the tallest Ferris wheel in Europe , and the most popular paid tourist attraction in the United Kingdom , visited by over 3.5 million people annually.
– When erected in 1999 it was the tallest Ferris wheel in the world, until surpassed first by the 160 m (520 ft) Star Of Nanchang  in 2006 and then the 165 m (541 ft) Singapore Flyer in 2008.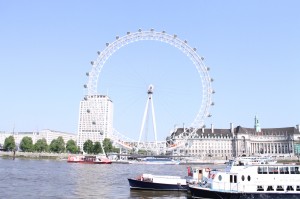 Comments
comments