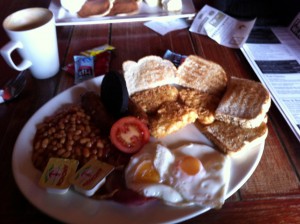 Although this is not the healthiest meal in the world, England is famous for its breakfast and you must try a typical English Breakfast if you are in the UK. Traditionally, this meal was for labourers, particularly those who worked on building roads and railways and it meant that these workers had lots of calories for their hard day's work. Even now, if you go to a cafe early in the morning, you will find most of the people eating English breakfasts will be labourers such as builders. However, it is worth experiencing this amazing meal at least once, even if you have it instead of lunch! In fact, that's why we have another name for a meal instead of Breakfast and Lunch called "Brunch"
Typical ingredients of an EC Brighton English breakfast include  🙂
Eggs – normally fried but can be poached (boiled out of their shell) or scrambled (mixed up)
Bacon – If you can get local Sussex bacon all the better
Sausage – again, some of the locally made sausages are amazing
Beans – baked beans are an old favourite but you probably won't find them in the more upmarket restaurant's breakfast menus
Black Pudding – many people are put off by the ingredients of black pudding (pig's blood and oatmeal) but it is delicious and a similar food can be found throughout South East Asia and also in Germany/Austria ("Blutwurst"), France ("Boudin"), Italy ("Buristo or Birldo"), Sweden ("Blodpudding"), Spain ("Morcilla") and Eastern Europe ("Kishka" or "Krovyanka")
Hash Brown – this is deep fried mashed potato. Not a traditional English component of the breakfast (from the USA) but very popular and delicious !
Mushrooms – traditionally fried for breakfast
Tomato – again, usually fried for breakfast
Toast – normally served on the side with butter
Tea – a cup of tea is very traditional at breakfast
Brighton has some great places to experience an English breakfast. For a good value breakfast I would recommend Seven Bees Café (7B Ship Street Gardens). The other challenge here is if you can find this café, tucked away in a small alleyway in the lower Lanes area of Brighton
If you want to spend a bit more money, there are plenty of places that serve an amazing English breakfast including:
Riddle and Finns – Meeting House Lane, Brighton, BN1 1HB
Bills Brighton – 100 N Rd Brighton, BN1 1YE
Coast to Coast Brighton – Brighton Marina Waterfront
Bistro Du Vin/ Hotel Du Vin  – Ship Street, Brighton, BN1 1AD
Did you know ?
For the upper classes (e.g. royalty and aristocrats) breakfast is the only meal where you serve yourself (normally it's a buffet and you will still find it like this in most hotels). Fro all other meals you would exepct to be served by waiters or servants.
It is not considered rude to read at the table during breakfast (for example a newspaper). For other meals it is considered very rude to read at the table.
Comments
comments