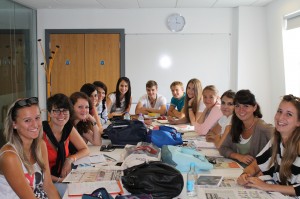 This summer has been our first year of holding the Freestyle Programme at EC Brighton.
Freestyle courses are for students who need little supervision. It's a good choice for more mature, independent teenagers. This programme includes English lessons, single-room accommodation and social activities. Available in the summer for students aged 16 – 20.
We thought we would get some feedback from one of our largest classes who after their English test in Brighton studied at Intermediate level.
Feedback comments from Freestyle Intermediate class 
Why did you enjoy studying at EC Brighton?
EC Brighton is the best place in England. I found a lot of friends here and I spent my free time very well.
It's cool here and it had nice people.
Brighton is a cool town where I made a lot of friends.
It's a fantastic experience, I enjoyed myself too much!
It's a great experience for practise English.
The teachers are very great and the lessons are good.
I enjoyed studying at EC Brighton because the people here are amazing. I met so many people and we became friends.
The lessons are very interesting and the teachers are great.
I really like this city and I really like the school.
I like study at EC Brighton because it's well organised and the lessons are very funny and nice, it's not boring.
What do you like about your accommodation?
Speaking with other people.
I like everything.
What was your favourite city attraction?
Beach.
Brighton Pier and the Pavillion.
The city center,shopping.
Rides/attractions on the Pier.
What is your favourite restaurant in the city?
Al Duomo  because the pizza is excellent.
I like Pret a Manger.
The Italian restaurants because I like Italian food.
What was your favourite activity organised by the school?
Laser attack.
Visiting London/Trips to London.
Bowling.
Comments
comments