The Notting Hill Carnival is an annual event that since 1966 has taken place on the streets of Notting Hill, Royal Borough of Kensington and Chelsea. The streets of West London come alive every August Bank Holiday weekend as London celebrates Europe's biggest street festival – the Notting Hill Carnival.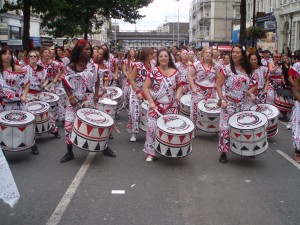 This year the Carnival Bands will take to the roads from around 10am on Sunday 25th August 2013 and the same time on Monday 26th August 2013 , the parade should complete its procession by 7pm.
With a Caribbean theme that sees West London packed with steel bands (bands of Trinidadian origin, composed chiefly of tuned percussion instruments fashioned from oil drums), Calypso music (music that originated in the West Indies) and tempting food stalls, the Notting Hill Carnival is a huge party and everyone is invited!
Expect a sea of colour as amazing floats and costumed performers wind their way through the streets of London. Whether you want to join in the fun or simply watch the crowds go by, don't miss the chance to be part of one of London's biggest and best annual events.
Sunday 25/08  at The Notting Hill Carnival is Children's Day, with a shorter parade route. It's also the day that the costume prizes are awarded!
Bank Holiday Monday 26/08 –sees the main parade. In the evening, the floats leave the streets in procession and people continue the festivities at the many Notting Hill Carnival after-parties.
Remember! EC Brighton will be closed that day!
Enjoy and stay Safe!
THE NOTTING HILL CARNIVAL TIPS
Download a map of the Notting Hill Carnival route herunder
http://www.thenottinghillcarnival.com/Carnival_Route_2012.pdf
       2. Have:
–       Some drinks to cool you down, hydrate you and get you in the spirit.
–       Money to buy food, Notting Hill Carnival souvenirs, travel costs etc.
–       Comfortable shoes for possible long durations of walking and dancing.
–       As many friends as you can get to come with you!
     3.  Always go with the flow of the crowd, not against it.
     4.  Remember that Carnival floats are large vehicles, do not run across their paths and do not get too close to them.
     5. Don't bring glass bottles, but don't worry – drinking on the streets is permitted at Notting Hill Carnival.
    6.  If you prefer the Sound Systems  head for the interior of the route.
   7.  Do tell police if you see an incident. Officers will be stationed throughout the Carnival area.
   8. Avoid carrying expensive items, such as jewellery and digital cameras.
Comments
comments