What's up Brighton!
I'm Kyu from the Sales team at EC Central and I've currently made a pit stop at EC Brighton. What can I say, it's been just as advertised if not more!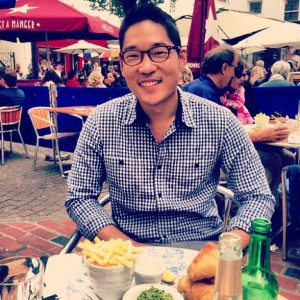 Having been in different places of the world it's easy to appreciate the opportunity to visit a city you've never been to before. But at the same time it's  hard to 'fall' in love with one, and Brighton certainly challenged that.
Not only is the city vibrant in itself but it I believe it's because it offers diverse dimensions not many other cities have.  There's the beautiful seafront that stretches out for miles, city centre right next to it, gorgeous shopping district in The Lanes and what can I say, the BEST fish & chips in the UK!!!  If you don't necessarily agree, try the Fishy Fishy restaurant by The Lanes and you will not be disappointed, as my happy face in the picture will tell you.
Last but not least, the EC Brighton centre here is hands down one of the most impressive.  Yes, for new students look for a great facility, great accommodation and great teachers, which Brighton already has but I believe it's the staff here that makes the entire school atmosphere great.  They have great chemistry and it's sad my time is limited here.
Comments
comments