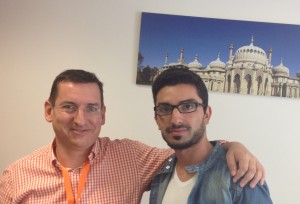 Congratulations to Emre from Turkey who won our July Review competition! He can choose a trip for 2 people to either London, Oxford or Cambridge
You can write a review about EC Brighton by clicking here and registering on mylanguagetravel.com. It only takes a few minutes and we really appreciate our students telling the world about their experiences at EC Brighton
Here is what Emre had to say about EC Brighton …..
 EC Brighton has enchanted me with its wonderful pulse and setting. It's paradise just across a sea. The people here are so nice, and the city itself is just so welcoming I think! Everybody is always talking about the "American dream". I would actually say the "English dream".
I spend almost 1 month with them and i have 4 weeks more. I have enjoyed every minute! It is an amazing time with them and they are making things so much easier. I really wanna say THANK YOU to all of you.
I can't even tell you how excited I am. To experience a new culture, to meet new friends, improve my language skills – and most importantly, to enjoy life.
We are trying to do everything possible to make the most of it, exploring English, see new places, meet new people …
The teachers are lovely and the methods they use are much more efficient and better than anything else I have experienced.
I will miss EC Brighton…
Comments
comments