YOGA AT EC BRIGHTON!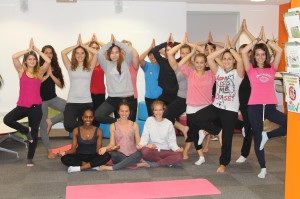 What is yoga?
Yoga is an ancient form of exercise that focuses on strength, flexibility and breathing to boost physical and mental wellbeing. The main components of yoga are postures and breathing. The practice originated in India about 5,000 years ago, and has been adapted in other countries in a variety of ways.
7 BENEFITS OF YOGA
Physical: The movements of yoga will carve out a long, lean, strong, and confident body.
Mental: All those deep breaths reset your mind back to its natural state: calm, focused, and sharp.
Psychological: All the focusing inward illuminates our behaviors and tendencies. The same habits we have on our mat are the ones we have in our lives. Regular practice gives you a clear mind and the inspiration and courage to be constantly expanding and improving your life.
Neurological: When your brain is "on yoga" your neurological system is brought back into balance and is conditioned to steer you naturally toward a healthy lifestyle. Our bodies are constantly rewired to make whatever we practice get easier. When we practice healthy, balanced living we get more healthy, balanced living.
Intuitive: When there is tension in the body and mind, your intuition gets buried and your body switches to survival mode. Your yoga practice makes space in your body physically, releases tension, and calms your mind, making room for your intuition to float to the surface and guide you.
Creative: Creative juices start to flow when your body and mind begin to release mental blocks. Creativity doesn't like to come out when there are stressors, whether from physical tension or mental cloudiness. When the stress melts away, creativity can come out to play.
Connected: Yoga is the practice of getting connected. However you choose to view your spirituality, when you practice yoga, you remember that we all are connected, here to help each other, and that we have so much potential when we are kind to others.
Next free Yoga sessions at EC Brighton will be on Thursday 10/10 and 24/10 at 14:45 in the student lounge, don't miss them!
Comments
comments