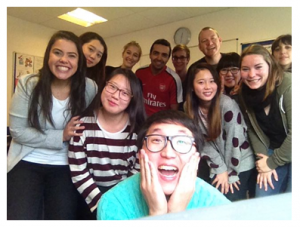 A GREAT TIME IN BRIGHTON!
When I got off the plane in London Gatwick nearly 3 months ago I was filled with curiosity on the one hand, and on the other hand, I can't deny having been quiet unsure about what the next three months will bring because of studying the first time abroad for such a long time.
Fortunately, everything turned out very well. I was given a warm welcome by my host family and this feeling of being welcome has lasted for the whole 3 months, as they have been very friendly and helpful and my host mother is even an excellent cook.
At school I soon met plenty of nice people from all over the world. We've begun to go out together and chatted about the different traditions and cultures of the countries we come from, which was a great opportunity to broaden our horizons and to get to know something about the lifestyle of the parts of the world we've never been to. Being really easy-going, friendly and helpful, the teachers have been able to create a warm atmosphere in the classrooms and they have had always sympathy to be standing in front of a partly powerless class on Wednesdays after most students had been out in the Font and Shoosh. I have really appreciated the extracurricular activities the school offered, such as the already mentioned Pub Night in the Font, bowling and the EC Brighton Student Parties.
During this three months in Brighton I haven't only improved my English skills considerably, but also have got to know great people who have become very good friends of mine and with them totally different cultures from other parts of this planet. I have had a wonderful time here whether I was at school or in pubs and clubs and will always have pleasant memories of this language stay.
Comments
comments