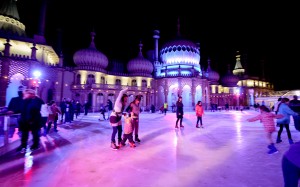 Built in Indo-saracenic style, the Royal Pavilion is probably the most famous landmark in Brighton. It is a former royal residence – it was the summer residence of The Prince of Wales, who later became King George IV. It is located in the city centre of Brighton and only a stone's trow away from EC Brighton!
A few facts that most people don't know about the Royal Pavilion:
Very remarkable architects like Jonh Nash and Henry Holland took part in the construction of the Royal Pavilion, at different stages.
It was transformed into a military hospital during the First World War.
Around 400,000 people visit the Royal Pavilion annually.
You can go ice skating to the Royal Pavilion ice rink every winter!
For more info visit:  http://www.brighton-hove-rpml.org.uk/royalpavilion/pages/home.aspx
Comments
comments