Are you still unsure about what to do tonight? Here's a few tips from EC Brighton.
Stay safe and Happy New Year!
TICKETED EVENTS
Pump up the Jam – Coalition (171-181 Kings Rd Arches, BN1 1NB)
Do you look back with love to the days of 90s cool? Back to the days of wide-eyed and innocent raving, when getting the groove in your heart and throwing shapes on the dance floor was where it was at? It's time to bring the dance back to the rave. Bringing the 90′s hot steppin' party action like no other…
10pm – 4am
Early Bird Tickets £12 – until December 1st/Tickets £15 after
Smirnoff presents the Big Night Out – Oceana (KingswestWest Street BN1 2RE)
A night in Hollywood. With seven themed rooms, 4 DJ Arenas (House / R'n'B / Indie / Party), red carpet, paparazzi, full production video countdown, Co2 Cannons and lasers.
10pm- 4am
£15
Black Lion New Year's Revolutions  – Black Lion (14 Black Lion St, BN1 1ND)
Expect a night of all vinyl selections of raw soul, old school hip hop, northern, mod, ska, reggae, two tone, punk, electronica and hands-in-the-air bangers that go all the way from the '50s to stuff pressed onto wax this week in a small dungeon. Limited advance tickets are now on sale and moving fast – get yours and get down. No one does big nights like The Black Lion.
08:30pm-06:00am
£5
Audio NYE 2013/14 – Audio (10 Marine Parade, BN2 1TL)
A top quality mix of artists, who are all undoubtedly huge stars in their own right, but when you put them all together on one night, on new years eve you have an unforgettable spectacle, showcasing three of the hottest house acts the UK has to offer.
10pm
1st Release – £20/2nd Release – £24/3rd Release £28
Blackout Party – The Mesmerist (1-5 Prince Albert St, Brighton BN1 1HE)
With tin hats and military dress, allied uniforms and artillery clobber, frugal fashion and the make-do-and-mend mentality are what goes at the Mesmerist's well established NYE party! From the wartime 40s though to the rockin' 50s, it's going to be a dress up and dance spectacular with cabaret, live music and performers.
9pm
£15 adv. or on the door
 Krater Comedy Club – Komedia (44-47 Gardner St, BN1 1UN)
Eat, drink and enjoy some of the UK's finest comedians at the award-winning venue. This special line-up includes the crowd pleasing Eddy Brimson, the hilarious Maff Brown and star of Radio 4's 'Citizenship Test' Paul Sinha, along with Komedia's very own fast-talking MC Stephen Grant.
07:00pm-08:00pm
Various Prices from £33 pp
 Bass Face – Volks (3 The Colonnade, Madeira, BN2 1PS)
Brightons biggest, baddest NYE bass bash – 12 hours of speaker popping mayhem – with two floors of heavyweight Drum 'n' bass, Jungle, oldskool, reggae, house, dub & all points in between.
10pm
£10 in Advance
FREE EVENTS
Gladiator 90′s Party – Mash Tun (1 Church Street, BN1 1UE)
Fancy dress fun at the Mash Tun! Recreating everyone's favourite TV game show GLADIATORS, you will see the likes of Jet, Shadow, Rhino, lighting and maybe even Ulrika behind the bar. You might even see a Travelator or two. There will be games, competitions and leotards galore and they'll be partying well into the night.
7pm
FREE
Star Wars Party – Sidewinder (65 Upper St James's Street, BN2 1PJ)
Come and join the Sidewinder this New Year's for our Star wars party! Prizes for the best costumes and a Star Wars themed pub makes this a fantastic place to see in 2014. There will have Drinks deals and DJs playing the best music from the Star Wars era.
9pm
FREE
NYE with DJ Grandpa ABE – Fiddlers Elbow (11-12 Boyces St, BN1 1AN)
Bring 2014 in with a bang! Come on down for a night of groovy funk, latin, hip-hop, swing and feel good tunes. Best of all, it's FREE!
8pm-4am
FREE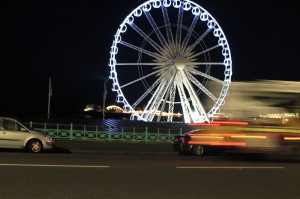 Comments
comments