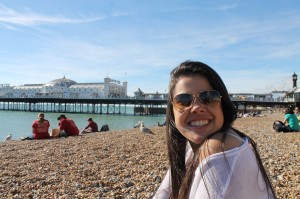 I have been thinking for maybe 5 or 6 days what I could write to everyone from EC Brighton about all this time that I've been here. But just today, my official last day in Brighton, I realised that the only real thing that I can say is THANK YOU!
Thank you for changing my life, my way of thinking about so many things. Thank you for being supportive when I needed it, for listening what I wanted to say. Thank you for everything that I have learned with all of you, inside and outside the classroom. Thank you for encourage me to improve my English in every single opportunity. Thank you for transforming that frightened girl, who arrived 16 weeks ago, in someone stronger and happier. During this 4 months I had the opportunity to meet people from all around the world, and live amazing experiences with them. On the first month, I explored a "party student life", going to great pubs and clubs almost every day and having a lot of fun. From the second month until now, I have experienced the "hard-working" way of this student life. Appling from the General English course to the Cambridge course I took for 3 long months, with my great classmates and fantastic teachers Jo and Sam. I realised how difficult English can be, but it didn't matter how hard it was because none of us never gave up and we always kept our smile and friendship.
Furthermore, I could explore the EC social life, becoming a student ambassador. My duties were to welcome the new students and encourage them to improve their English by participating in as many activities as they could, just like everyone did to me when I arrived. The perfect recipe.
After so many new things, improving my English was just the perfect consequence of everything, but definitely, not the only important thing that I have learned here.
Finally, the only thing that the EC Brighton team couldn't teach me is how to say goodbye, which is one of the worst things that happened here. So now, I would like to say: see all of you latter, guys! It was a pleasure!
Cristiane Lopes
Comments
comments