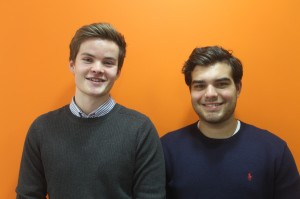 This is Henrik and Theodor, we are the two interns from Sweden. We are both 18years old and are currently studying business economics at Gothenburgs largest upper secondary school. We are very happy to be able to do our internship period here at EC Brighton. Henrik is located at the accommodations office and Theodor at reception.
Sports is one of Henrik's biggest interests. He has been practicing many different sports such as football, floor ball, badminton, martial arts and golf. Golf is his favorite and is also the one he has been practicing for the longest period of time. Another big interest of his is photography. He also likes to spend time with friends, go to the cinema and work out at the gym.
Theodor also loves sports! He plays midfield and face-off for Gothenburg Lacrosse.
Last year he participated in the Swedish Lacrosse Championships and his team
finished in fifth place. In the off-season he does strength training at the gym. In his
spare time he enjoys spending time with friends and family. One of Theodor's
dreams is to play lacrosse for the Swedish national team in the European
Championships 2016.
Our first week at EC has now come to an end. We really like the staff, everyone is
very friendly and we feel that we have already become a part of the team. We have
also gotten to know Brighton a little bit and it seems like a very fun and social city.
There are hundreds of restaurants and pubs to visit! We still have a lot of exploring
to do and we hope that we will have time to visit the major attractions and the best
pubs while we are here.
====
EC offers various courses, including long-term English courses in Brighton.
Comments
comments