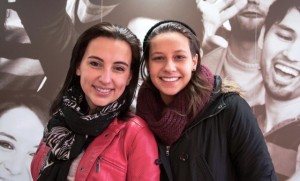 After saying goodbye to lots of friends, it's my turn to leave. The most difficult part of this farewell is the uncertainty of when the next meeting is going to be. Such a good friends I have made in Brighton!
Six months ago I also left friends, family and the tropical weather in Brazil. In August 2013 I went away from my comfort I enrolled myself on an Academic Year course at EC. I crossed the ocean to a place where I would have to speak in English if I wanted a simple glass of water. More than 12 hours on a plane, the only thing I could think about was how challenging the experience was going to be. After spending a long and hard time, the fear towards the unknown and new, was soon vanished. From the moment I arrived, I realise that speaking English wasn't the seven-headed beast that I thought, and Brighton offered me everything that I needed. I was affectionately welcomed with a BBQ at my host family and by EC Brighton on my first day!
The only thing that I wish is to go back in time, like the movie "About time". Bus such is life, and it isn't a fiction film. However, I will take Brighton and the friends that I've made home back in Brazil!
===
EC offers various courses, including long-term English courses in Brighton.
Comments
comments