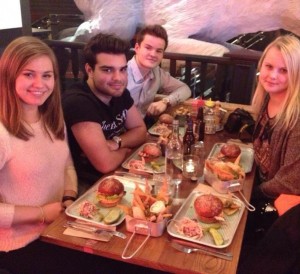 We have been here in Brighton for a month now. We are really enjoying the city and what it has got to offer. We feel like we know the city pretty well now and can locate ourselves in most parts.
Last weekend we went to London to visit and meet up with some other Swedish interns from our school. Three of them are doing their internships at IKEA in Newcastle and two at EC London. We arrived in London at about 9:00. Straight off the bat, the girls wanted to go shopping, so that's what we did. We spent most part of the morning and afternoon checking different stores and just walking around. We went to the Big Ben and Henrik took some pictures. Later in the afternoon the Newcastle interns had to leave for their train. In the evening we ate at Jamie Oliver's Diner with the two girls from EC London. The hamburgers there are great and we highly recommend them if you want a nice dinner in London.
Back to Brighton! We have played football several times here with the EC Brighton students and staff and it is a lot of fun! We also became members at the Lanes Health gym. It is located in Queens Hotel and it is pretty close to the school.
Comments
comments