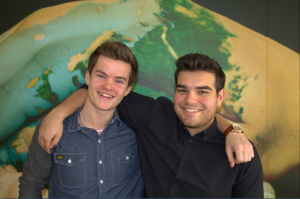 See ya Brighton!
We have had two really great months here in Brighton! It's a wonderful and very fun city. Theo has worked in the reception with the lovely and nice Eli and Henrik has worked in the Accommodation Office. We have both learned a lot and have had a tremendous time here in Brighton. Most importantly, we have been able to speak English in a more natural manner and more fluently. We have had a lot of fun in Brighton. One thing that we will never forget is Friday the 14th of February, on our way to the Valentine's party, when we almost got blown away by the storm!
We would like to thank the friendly staff for having us and that they have put up with our, sometimes annoying questions. We have been treated very well and we will miss you all! Hopefully we will come back to visit someday. We definitely recommend EC Brighton both for studies and for internships. We also wish the students the best of luck. Keep studying!
Theodor and Henrik
=====
EC Brighton offers various English Language Courses, including Business English Courses.
Comments
comments