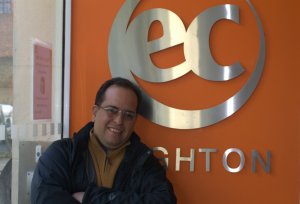 My name is Leo, I work in events (communications, training, networking) I need English and it was a fundamental decision to come to the UK. I am from Caracas the Capital City of Venezuela in South America.
I spent six months at EC Brighton, which can be simplified by one word "Amazing". A great experience, incredible location, optimal environment, good teachers and the best staff is the best guarantee to feel at home, a family that decided to live to the fullest. To thank this family in which a smile was constant does not have adjectives; all good adjectives are for them.
I have improved my English; I learned to share with different cultures and religions, met wonderful people and relationships that will last for a long time. I liked being in this magical city, and there is no doubt that Brighton has this "Magic"
I thought about studying for twelve months. I thought about trying 6 months at EC Brighton and then finding another school but it would be impossible to change, to meet my expectations academically and be guaranteed to get the results I expect.
If someone asked me a reason other than academic that made me make this decision, you could say that the magic is in the people of the city, together with those who live in Brighton and the EC Staff they transformed this time into the most pleasant life experience that I have had in my more than 40 years.
I return to my country soon hoping to be back to my second home. EC Brighton "I will come back".
Comments
comments