For a sandy beach you need a good source of rocks that can be broken down into sand by erosion. Much of the coast of South-East England is Chalk. This does not break down into sand, the soft limestone crumbles, and either makes a limey mud, or dissolves.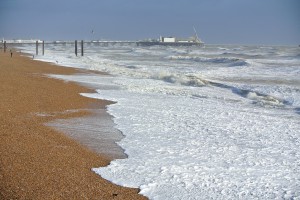 The pebbles are flint (a hard grey rock) deposited in the chalk cliffs adjacent to Brighton. Through natural erosion the flints are released from the cliffs and slowly make their way through natural process to Brighton where the groynes are in place to "capture" the pebbles.
The beach is only 50 meters away from EC Brighton and our students can witness this natural process every day.
There are apparently around 614,600,000 pebbles on Brighton beach! 
Comments
comments