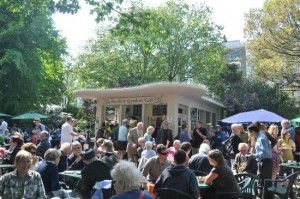 The Pavilion Gardens Cafe is nestled under a group of trees in the quiet gardens behind the Pavilion. It was opened about 73 years ago and has been run by the same family ever since.​ The cafe is in a lovely shady spot and sells reasonably-priced cakes, snacks and drinks with one of the best views you can get.
In the summer it's lovely to sit in the shade, looking at the Pavilion and watching the world go by. There's often a busker playing music nearby. Recently, the local council wanted to knock it down it and build something new in its place but local residents signed a petition to stop that happening and we saved it! It's a real favourite with people from Brighton. If you want to visit a truly unique cafe then this is the place to go!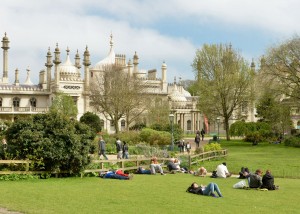 The best thing is that the Cafe is only a stone's throw away from our school so after an exhausting day studying your Cambridge preparation course, General English course or IELTS course in Brighton, you can chill and relax having a coffee and staring at the beautiful Royal Pavilion!
Comments
comments