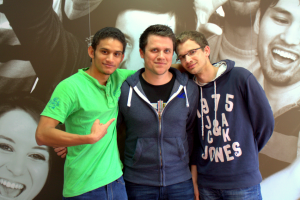 Hi, My name is Boris Kamphausen, I'm 23 and I come from Switzerland!
Boris, why did you choose to study in EC Brighton?
First of all I read some reviews on the internet which were extremely positive. Furthermore I was very excited about the area, where the school and the seafront residence are situated.
What did you enjoy the most about your time studying at EC Brighton?
Of course, it was amazing to meet new friends from all around the world but also the lessons were great because the topics were interesting. I studied a General English course at EC, my level is advanced.
Please tell us a little about what you thought of:
Your teacher: I had two lovely teacher who created a familiar atmosphere an varied a lot the topics.
Activities (pub nights/ salsa/ free lessons/ excursions): I went to the pub nights and played football and I enjoyed both activities so much!
Foreign friends: I met a lot of new friends and we spent a lot of time together.
Comments
comments