EC Brighton students enrolled on a General English course are offered many free lessons (Pronunciation class – Conversation club – Lecture&film…) and lots of activities (Welcome event – Pub night – Yoga – Football- Bowling – Laser tag and many more!).
This month we have launched the Brighton Street Art Walk!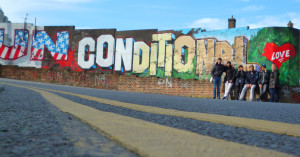 Brighton showcases stunning graffiti. St George's Mews, in the North Laines is like an open air gallery but there are examples of street art almost everywhere, including the decorated old phone junction boxes. Some of the Brighton graffiti have been painted by well-known street artists like Banksy, Snug and Odisy, other were created by less famous albeit great illustrators.
We believe in making the pieces that Brighton has to offer accessible to everybody – after all, isn't that the point?
It is free, fun and a good way to meet others interested in this art form.
Keep an eye on the monthly calendar and sign up at reception!
Comments
comments