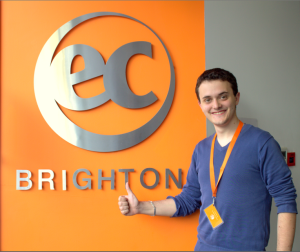 Hey students!
My name is Dorian and I'm the new intern from France. I come from a little city in the Alps that is called Grenoble. It's so hot during summer, but you can enjoy ski resorts in winter: the first one is only at 20 minutes by car! I studied Human Resources Management last year, and I asked for International Management for next year: I'm still waiting for an answer!
I know EC quite well, actually I was intern in Toronto last year for five months. After this amazing time, I was looking for another internship in an English speaking country. For sure I chose the coolest English city, Brighton! I arrived few days ago, and I already know that this new experience is going to be amazing.
I'm really glad to be a part of EC Brighton Staff. I'm working with Natalja and Eli at the Front Desk. Do not hesitate to ask if you need anything, I'll do all I can to help you. I'll stay here until the end of July, and I really hope that you will enjoy your stay here, as I'm currently doing.
See you soon!
Comments
comments