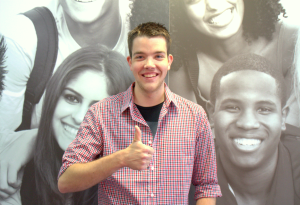 Hi everyone!
I'm Martin, from Switzerland.
To be honest, I didn't know much about Brighton or EC, but I don't regret my decision of coming here!
I learned and improved my English very quickly at EC – I studied an Intensive English course – and I also met a lot of people, it was an unforgettable experience for me.
I studied a General English course together with students from different countries and cultures and it was very helpful, as I could get an insight and learn new things in addition to the the language.
My time here went by incredibly fast and I improved my English every day a little bit with the help of the great teachers of EC, my host family and other students and friends I made here.
Not only EC Brighton is special. The city is incredible: there are so many young people and there are so many nice places to visit! It is near London and that is very handy and also other great places like Seven Sisters, Portsmouth or Stonehenge.
I will never forget the last 8 weeks because it was a great experience in my life, which I would recommend to every one!
Martin
Comments
comments