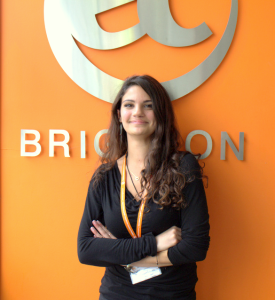 Hi!
I'm Camille, the new reception intern at our EC English school in Brighton.
I'm 19 years old. I live in the south of France, in Aix-en-Provence, a city very close to Marseille. It's a nice city where you have an incredible nightlife and during the day, the city is full of music and different kind of activities. I used to study Tourism and I finished my first year a month ago but I don't know what to do next year. My hobbies? Piano, guitar, eat (a lot), sleep, travel, see my friends and going to the beach of course! I also have two brothers, they are 10 and 7 years older than me but they always consider me as their little brother so, if you get to know me, you'll see how tomboy I am: my childhood was made about football, football, football and fighting with them.
Unfortunately, I'll be staying in Brighton until the 5th of July. I wish I could stay longer, Brighton is amazing and it's also full of  restaurants… as a vegetarian, it's amazing for me! Before being at the reception, I was a student here and I really enjoyed it but, it was clearly too short so I am so happy to stay as an intern here so I can improve my English a little bit more.
If you have any questions, I'll be so glad to help you the best that I can. See you!
Camille
Comments
comments