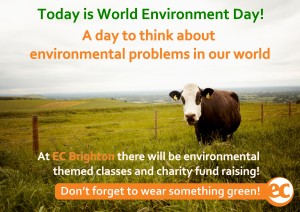 Thursday 6th June is World Environment Day!
A day to think about environmental problems in our world.
At EC Brighton there will be environmental themed classes, charity fund raising (wear something green and give money to an environmental charity – box on reception desk), and the launch of the recycle/re-use plastic bag scheme – bag bin in reception.
Students and staff will get the opportunity to discuss environmental issues, and hopefully make a small change for the better!
And remember – use the stairs and not the lift – better for you and the environment!
Comments
comments