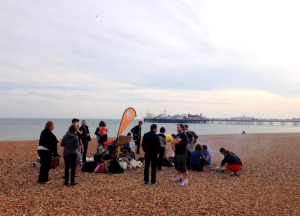 As a start to the summer, the staff and teachers abandoned the office on Friday night for some fun on the beach. We used disposable barbeques to cook up a plethora of meat and vegetarian choices along with some ice cold drinks and tasty snacks.
The conversation was fun and there was a lot of laughter – Ever tried to push a trolley onto a pebbled beach? It doesn't work. There were a few passers-by who seemed entertained with my 'world's strongest man' effort; an elderly couple sat on a bench who laughed the whole time; and a friendly heckler who offered his help between outbursts of joy. Other laughs included chasing rubbish along the beach and carrying Camille, one of our interns, into the sea!
It was a great way to relax before the busy summer starts – the calm before the storm!
Study English in Brighton at EC!
Comments
comments