I chose EC Brighton because I've never been here before and it was smaller than London. I really enjoyed my time here, the teachers were fantastic, the residence where I stayed was good and I really appreciated the nightlife. Next year I'll probably come back.
Simona from Switzerland
I enjoyed the time I spent at EC. Brighton is a fantastic city and my host family is very nice. I wish I could stay some weeks longer but I need to go back home. I studied a General English course in Brighton and the lessons and teachers were great, especially Helen and Caroline are very good teachers and the whole staff is very helpful.
Guilherme from Brazil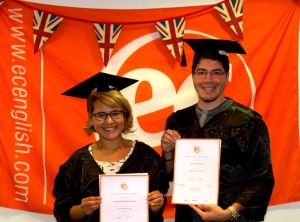 Hi, my name is Stella Guelfi, I'm from Panama. My experience in at EC was really good. I made a lot of friends from all over the world and the classes were really interesting. I've improved my English a lot, I will never regret to come here. I will miss Brighton so much, the city is amazing, I really enjoyed my time here. Travelling, going out with my new friend, memories I will never forget. Thanks for everything EC Brighton. I hope to see you in the future!
Stella from Panama
Comments
comments