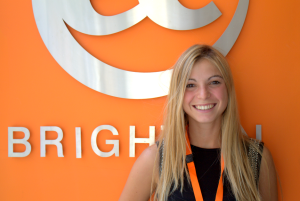 Hey there, I'm Marika, the new Student Services Intern at our EC English school in Brighton. I'm 20 years old, so I'm almost young to be there, but I wanted to have this kind of experience to meet new people, improve my English and why not: be more brave!
I live in Italy, in a small town called Lainate and I want to graduate in the Catholic University of Milan where I'm studying languages. I'll be here with you till the end of August and I hope to meet you at the Reception if you need some help. I had never been this far away from home so I was really upset and frightened at first. Now this experience is really getting on me and I know I will be very proud of me at the end. If you need me, you just know where to find me!
I wish you'll have the best days of your life at EC and in Brighton, meeting people and having more self awareness, so that you'll be satisfied of yourself!
Marika
Comments
comments