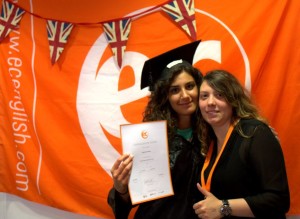 Hi there, my name is Valentina and I live in Italy.
I chose EC because I thought that study English in Brighton could be a very nice opportunity and also because of the sea! I love the sea!
I think I improved in listening, vocabulary and also speaking but I need to spend more time here to really improve my speaking.
I liked the lessons because everyday we talked about different topics and it was interesting but also funny at the same time. Plus I liked my teachers very much.
My accommodation was perfect and I would recommend EC to other people, I think it's a very good school. In my class there have been students from different nationalities: Colombia, Venezuela, Spain, Germany, Korea, Japan, Switzerland, Italy and Turkey.
I have good and very beautiful memories about this study-holiday. It was really wonderful, I felt very good, happy and satisfied about all of it and I would like to come back.
Comments
comments