Hello everybody, my name is Lino and I am from Switzerland.
I have already been in Brighton for six weeks and will stay for another six. Time is flying by so fast and I want to make sure I make the most of it as there are so many things to do in Brighton. I really love it here!
My personal highlight so far? The Arsenal match at the Emirates Stadium. But this is just one of many memories I will never forget and I hope I can add some more.
It has been two weeks since I started my internship at EC Brighton in the academic office and I can say that I really like it. As a former student it is very interesting to have a look behind the scenes of a language school. My new colleagues are so friendly and open, I must say that I have never felt as a new intern.
Although I do not have much time left during the week to spend with my friends, I am really enjoying this new challenge. It is a big task to work in an English speaking company as I have to interact in English all the time. Absolutely, this is the best way to improve your English!
I hope you will enjoy EC Brighton as much as I do, see you in the Academic office!
Lino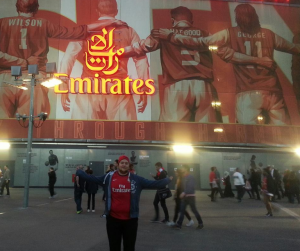 Comments
comments