Hi guys!
I hope you are enjoying your English language studies in Brighton!
Last week I travelled to Tuscany, Italy for the first time!
I stayed in a small village called Vetriano, near Lucca. Vetriano is home of the World's Smallest Historical Theatre.
In the mornings I enjoyed the views and sunshine whilst eating breakfast on the balcony overlooking the mountains. In the afternoons and evenings I spent time in the nearly towns and cities – Lucca, with its huge city walls that I rode around twice on a bicycle; the Cinque Terre, with the multi-coloured houses and restaurants, where I had lunch and sunbathed on the beach; Florence – with its art and museums, most famously Michelangelo's David; and Pisa, with the world famous Leaning Tower.
As it was my first time in Italy I took every opportunity to sample as much food as possible. I suspect that I should have been born Italian – the food is incredible! However, throughout the whole week the most likely place to find me would have been in the nearest Gelateria. The amount of ice cream I ate was unbelievable.
I'm now determined to learn a decent amount of Italian and get back to Tuscany as soon as possible!
Ali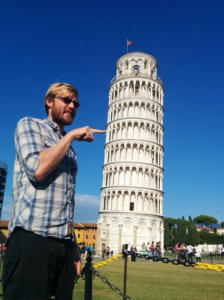 Comments
comments