Hello there!
My name is Vivien and I really enjoyed my two weeks of  English language studies in Brighton.
I am now the new intern at EC Brighton and I am 23 years old. I work with Student Services at reception with a great team and I will be here until 10th December. So if you have any questions please come and ask!
I really wanted to meet new people, improve my English and live an enriching experience, that is why I am here! British culture is completely different from that of my country and I hope to gain a great deal from it.
Otherwise I live in France, in Normandy to be precise which is famous for its cheese and alcohol the "Calvados". It is a beautiful area except when it rains. In Rouen (my hometown) I study Trade Management and Purchasing in a business school. With the school, I had the opportunity to go to a seminar in Mexico for two weeks and it was really great and scary. I have also been  to Danemark, the Netherlands and Belgium.
All these studies to become a buyer in a few months. Besides, I take this opportunity to pick your brains! As final project we must create an innovative company so if you have any advice or ideas I would be very interested to hear from you!
See you later
Vivien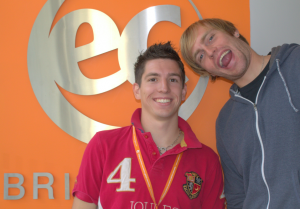 Comments
comments