Sumire Kuroda is from Japan and she studied an English Language course in UK for nine months.
Thank you very much to EC Brighton for the fantastic time I had. I really had a great time with my international friends and teachers.
I will never forget it!
Sumire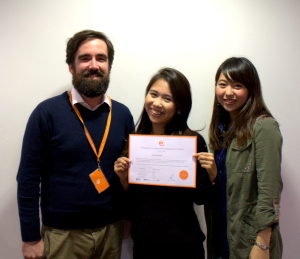 Yungjoo Jang  from Korea studied Intensive English for four months at EC Brighton.
The main reason I decided to come here is the nice weather in Brighton. The weather in June, July and August was much better than I expected. Before starting my English studies with EC Brighton I could not speak English well. Communication with English people was almost impossible when I was in Korea, but now I am able to talk to any people who come from different countries thank to EC.
I really appreciated Chris who was my Teacher when I was an intermediate student, she was funny and really good at teaching. I could learn a lot of things about English from her lessons.
Actually, I did no plan to take the Cambridge exam before coming to Brighton, however EC gave me the opportunity to study a Cambridge course. Now I am really trying to pass this exam. I am going to continue studying English to pass the Cambridge exam in Korea. Once I receive the exam result I will let EC Brighton know!
I will never forget this time, thank you for everything!
Yungjoo
Comments
comments