David Montag Moreno studied an Intensive English programme in Brighton for 9 months. Here's what he has to say about his experience.
The reason why I chose Brighton is because I have always liked the beach and living close to the sea. I have enjoyed every second I have been in Brighton and I am very grateful to my classmates, teachers, EC staff and of course not to forget my host family!
A special thank goes to my teachers, Andrew, Tim, Michael and Simon. They have made my classes really interesting and helped me to improve my English. I have reached the advance level thank to them and my host family helped a great deal with my use of English and learning new things every day. I liked the variety of activities offered by EC Brighton, most of all I loved football!
Thank you EC Brighton!
David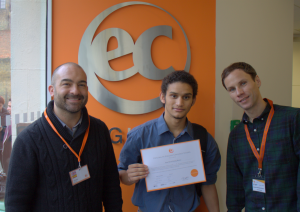 Comments
comments