Aurelie Abt from France studied an Intensive English programme in Brighton for 9 months
I have chosen Brighton because it not far from France. Brighton is by the sea and it is a very vibrant city which has a lot of activities.
At EC Brighton I have improved my English enormously, when I started I could not explain myself and now I can. My favourite EC activity is pub night because we can practise English, and have a good time meeting new people.
In my class I liked learning grammar because it is a very important aspect of the English language.
I want to recommend EC Brighton because it has been an amazing experience for me. My new international friends come from Korea, Turkey, Italy, Spain and Libya.
Thank you EC!
Aurelie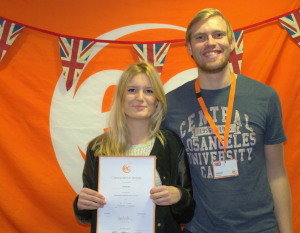 Comments
comments