Diana Carolina Vesga Reyes joined our English language centre in Brighton for 8 months.
I have to say that this experience has been really important in my life. I enjoyed so much every minute here making friends and learning English.
When I came to Brighton I felt confused and afraid because I could not understand English, but in school I got more and more confidence and I now feel much better to hold a conversation in English.
I am grateful to EC, especially my Teachers who helped me to improve my English – Jo, Helen, Jonathan, Paulina, Charlotte, Lizzie, Andy and Louise.
Thank you so much for your time and recommendations!
Diana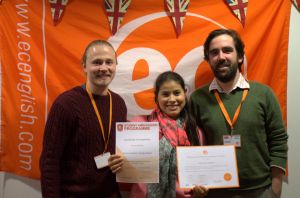 Comments
comments