Hi guys!
My adventure in Brighton and at EC will end in two weeks, time has gone by so quickly! I have lots of good times to remember from this adventure.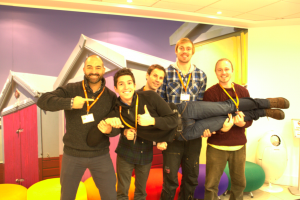 Brighton is a great city to party as it comes alive every night. My best memories are the moments at the Font, King&Queen and Pryzm! I will certainly come back in the future.
Needing to take a break from France and my first time in the UK, I would think that my story was so fabulous. Doing an internship at EC Brighton has really been a pleasure. There is always work to do, organize Halloween activities and Cheese and Wine tasting with Jack was really cool. I met lots of wonderful people, staff and students.
For sure I miss France a lot, but I will also miss many things here in the UK. Politeness is the first thing I noticed. Then the events with my colleagues, soccer on Thursdays or going out with the staff after work. I would not say I loved the English food, but it is also something I am going to miss!
I just want to say a massive thank you to all the staff at EC and all the friends I met along the way!
Vivien
Comments
comments