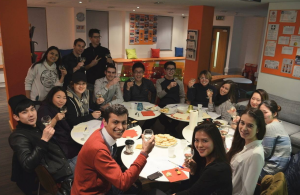 EC Brighton had our first ever Wine & Cheese evening, on a chilly December Friday evening.
We sampled a delicious selection of wine and cheese from across the world, listened to ambient jazz and had great conversation.
The evening began with an introduction to wine tasting and then we started a light-hearted competition; trying to determine what flavours/aromas were in each sample of wine.
Lots of wine, cheese, wine, crackers, wine, bread, wine, olives, wine, saucisson later we revealed each bottle of wine and totaled up the points…
Congratulations to Chiaki for winning the competition and a lovely bottle of wine for herself!
If you need a break from your English courses in Brighton, check out our event calendar and sign up at reception.
Comments
comments