Julie Ruffet is studying one of our English courses in Brighton. She arrived last week and she is currently studying an academic semester. Here is what she would like to say about her experience so far:
One of my friends who travels a lot in England told me that Brighton is a great city, so I have come here! At EC Brighton I get to practise English so much, which is really great. My favourite activities are pub night and laser tag!
The school has really good teachers and I like the fact that lessons focus more on talking rather than just learning grammar and rules. My host mother is the nicest person I have ever met, so I am really happy!
My new friends come from all over the world. The social leaders are nice and trustworthy, which is the most important thing!
Thank you!
Julie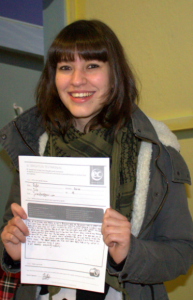 Comments
comments