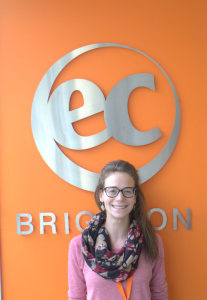 Hi Everyone !
My name is Julie. I study Tourism in Belgium and I'm on my last year before I get my diploma. I discovered EC during my stay in Malta in 2011 and I am now intern at the Customer Services here, in Brighton!
Why did I choose EC to do my internship? I just felt in love with this amazing multicultural atmosphere in which you have the chance to enjoy every single day! Where else can you learn a lot while having so much fun? EC helped me to find a great host family with whom I can discover the numerous facets that English culture has to offer!
Every single EC team member cares about every little thing for you to make the most of your stay and this is really fantastic!
Thanks for everything! I am really glad to have joined EC Brighton language school and to be part of this big family. I look forward to keep learning, discovering and sharing so many things for at least the next three months…with amazing people from every corner of the world!
That's for sure, the EC adventure never stops! Don't hesitate…let the journey begin!
Julie
Comments
comments