Pedro Rosario Lemos Crispino from Brazil studied six weeks at the EC Brighton language school. Here's what he wanted to share about his experience with us:
Brighton is the perfect city to improve your English and the best city to make new friends. During my lessons my pronunciation and listening had a wonderful transformation.
Football was the best activity because I really like to play football. EC Brighton will always be recommended to my friends. Like I said before this city is fantastic to make new friends, each one was from a different country, France, Brazil, Germany and more.
What I'll will remember is the life style here, it is impossible to get bored here. Every day you got a new activity even if they are made by EC or made on your own.
Thank you very much EC! I will not forget my stay here!
Pedro
Ihago De Castro Koury Guimaraes from Brazil  studied English for eight weeks at EC Brighton. This is what he told us on his last day:
I had a great time in Brighton. During my stay in EC Brighton I improved my English a great deal and met a lot of new friends from many different countries.
I learnt a lot from this experience and I hope I'll have some more experience like this again.
Thank you
Ihago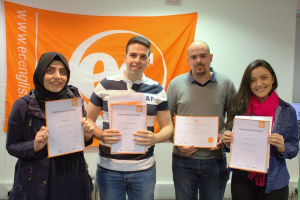 Comments
comments